Adwards:
4/5 cows from Tucows.com

5/6 stars from PC Pro
"Repeated content meant that, out of a 30GB music library, 8GB was made up of duplicate tracks that I'd transferred from PC to PC. The first problem
was to weed these out. Enter NoClone from http://noclone.net. At $27 it's a little pricey, but it saved me hours. It identifies all your duplicate files (works with photos too) and asks you which you'd like to delete... Losing 8GB from your hard disk actually feels like shedding fat. Believe me."
Review from Nick Ross -
PC Pro (UK)
Background
WWF is one of the world's largest conservation organizations, with a network of offices working in more than 90 countries. It is dedicated to stopping the degradation of the natural environment and building a future in which humans live in harmony with nature.

Problems
With such a large global network, there are enormous amounts of information and documents in daily operations. Jackie Drennan, Information Manager of WWF-UK, claimed that several problems arose. "At our WWF-UK headquarters, we use network drives to share information and work collaboratively as an organization. In the past, each team could only see their own folders and so, information and documents were duplicated in many areas." As time went by, this led to lack of network space and poor information handling. Dealing with duplicate files to regain more valuable disk space is therefore a critical challenge.


Solutions
After opening up all folders to all staff as part of a change in document management processes, WWF-UK chose to use NoClone to deal with the legacy duplicaate files. They will now regularly tidy up by checking for duplicates on an ongoing basis. By using a site license, i.e. the software is installed centrally in the applications server, staff can use it whenever they need.


Benefits
Recover Storage Space
By getting rid of thousands of unnecessary files and regaining almost many GB of hard disk space, hard disk or server storage space could be fully utilized and cost could be saved.

Better Data Management
As staff know their own work processes thoroughly, the site license means it is easy for them to make decisions about keeping or removing their own duplicated files. This saves the information manager trying to decide which copy would be the best one to keep. "It works best when a team works through a duplicate list themselves so they can agree which copy of a file to keep," said Jackie Drennan.
Reduce Overhead Cost
Quality of data improves which results in reducing the number of files in the network to people in need of only. No duplicate files will be found in server after deployment of NoClone Enterprise. In a long time prospect, time can be saved for manual checking duplicates and so, less maintenance cost is required.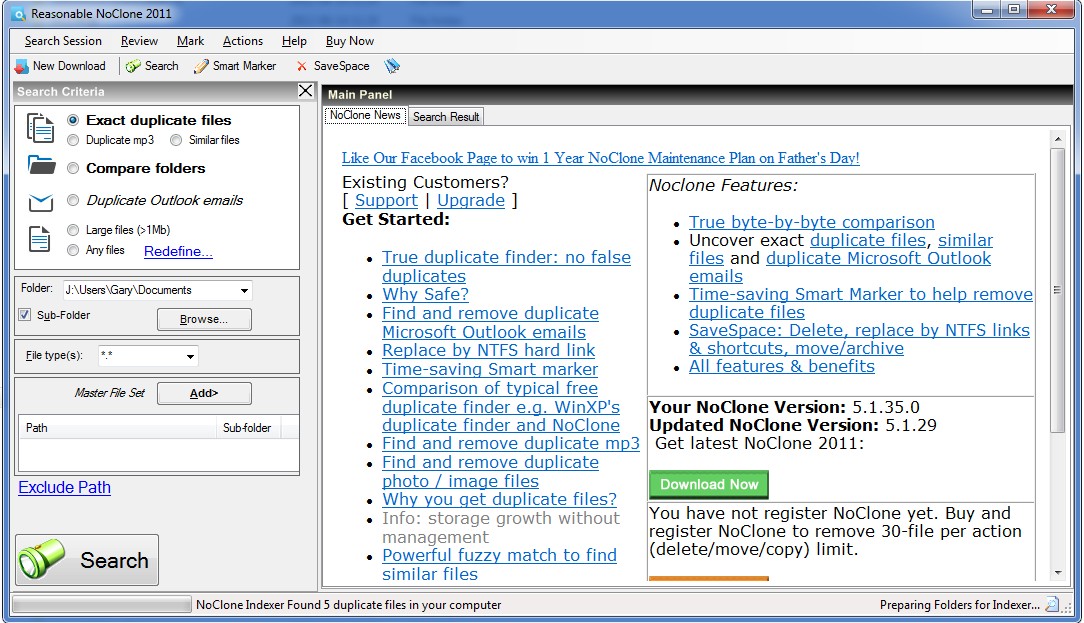 Screenshot: preview photo files internally
"As it frees up space and improves our information management, NoClone can help in solving our previous problems. I particularly like the 'search target' and 'search area' options and use them almost all the time to restrict my searches - a lot of other duplicate finding software doesn't give that option," said Jackie Drennan, Information Manager of WWF-UK.
As everyone must have chances to work with files, duplicate files are unavoidable. So now, don't buy any hard drive, instead, buying NoClone can definitely solve your problems.